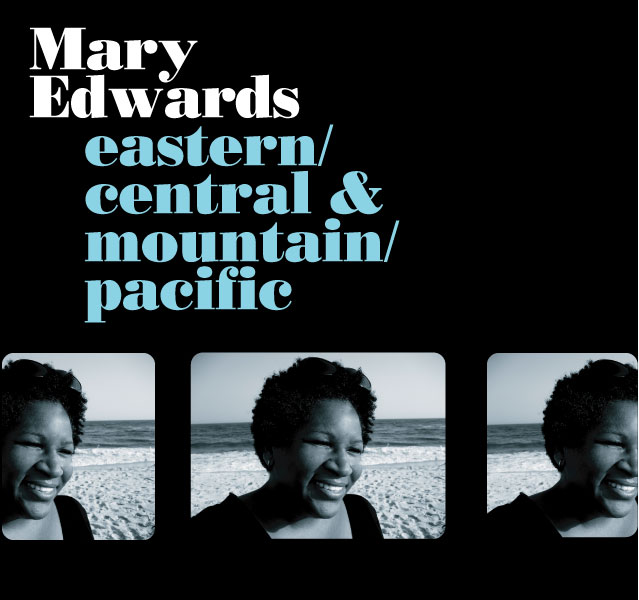 RECORDING
Eastern/Central & Mountain/Pacific


"Mary Edwards' new album shines with the quality and influence of a super-cool pop era: There's that cinematic touch of Francis Lai, that great Pacific Coast Highway vibe of Burt Bacharach, the poetic longing and lilt of the Carpenters and that hip urgency of a Lalo Schifrin TV theme for a Quinn Martin Production."
—Bobby Rivers


"The opening track, Time and I just sweeps you away to a luscious stoned soul picnic where echoes of The Fifth Dimension and Swing Out Sister drown out all the noise of the surrounding madworld and set the tone for the rest of the addictive playlist..."
—DOUGSPLOITATION

"...Unfairly, hardly anyone raves about a guy named Hal David (and the job he did) in proportion to his more famous work partner, but a listen to Mary Edwards will prove that she has both Burt's and Hal's respective missions taken care of in her music."
—Brent Cash, Composer/Singer/Songwriter, HOW STRANGE IT SEEMS

"This latest release is replete with lush musical architecture; gorgeously crafted soft edges and curves, and lyrics that take your soul to places you've always wanted it to visit...the album flows effortlessly, like the tides, leaving something for you discover after each track has receded. Disarmingly beautiful, soulful, pure, honest, unpretentious, bearing as well all the hallmarks of a true 'classic'."
—Julio Razquin, WOOL.FM


"Mary Edwards creates music which inspires you to dream and escape as she uses her talent of cinematic songwriting and soothing vocal ability to create a heavenly atmosphere of sound. This composer, arranger, producer and singer draws inspiration from 60's film scores, classic pop and artist such as Burt Bacharach or The 5th Dimension. Her knack for drawing upon the lighter side of emotions through music to brighten your day is evident upon the first listen as her sound creates visions of happiness. Turn on Eastern/Central & Mountain/Pacific and step into the sunshine which is the music of Mary Edwards."
—Collectors Item: Music, Art & Life



Composer and singer/songwriter Mary Edwards, if not geographically, is bicoastal of the heart and mind. The native New Yorker recalls her many visits to the coast of California, where each trip was like revisiting a Ray Conniff album cover, where panoramic locations of film sets for Steve McQueen's high-speed chases gave way to high-profile romantic screen kisses, where a tuxedoed Herb Alpert dashed across Malibu Beach, horn in hand, towards the soundstage to ultimately lay down that taste of honeyed brass in a session at the legendary A&M Studios on LaBrea. In contrast, her own city of multi-sensory chasms would embrace any Angeleno or San Franciscan who willingly swapped their white henley for a Dior trenchcoat and endless Summer sunshine for perpetual neon lights as they made their way towards The Brill Building.

The east-and west coasts are symbiotic, and like a Bachelardesque observation where one can feel simultaneously big and small in the grand or intimate scheme of things, there is a vastness in both the concrete canyons of NYC and the Paramount Pictures-invoking mountain views on Route 101. And they co-exist in a daydream.

Mary Edwards grew up on Staten Island, a pastoral borough of New York City, and vividly remembers, as a child, Sunday driving expeditions with her parents and siblings, down the boulevard and through the hills, where the car radio played as varied a selection to the moving images through the car window. Transfixed by the melodies and lulled by the dreamy synchronization of nature with musical landscape of the Pop Contempo Sound—compliments of Bacharach & David, The Fifth Dimension, the Carpenters, Jimmy Webb and Paul Williams—she discovered how they touched upon every emotion with just the right combination of playfulness and drama. Mary captured stills in her mind, recreating moods of the ever-changing terrain on the family's Hammond organ later in the day. Playing familiar songs from memory juxtaposed her own pieces that strode the boundaries of harmony and dissonance.

Television, too, was a portal to her senses. The living color aspect extended to the way she heard incidental arrangements, opening up the possibility that a well-crafted tune could become a soundtrack to one's imagination. If you are of a certain age, or a television (history) afficianado, you will know or remember the famous spoken epilogue that crowned some of the dramatic jewels of '60s/'70s programming like The Streets of San Francisco and Barnaby Jones: "...This has been a Quinn Martin Production..." Mary admits she was too young to embrace the intricacies of the series' plot, "Although," she expresses, "I noticed the music bed which accompanied the title sequences brought with it a fantastical panorama of colors, sounds and scenarios of near-epic proportions. Sometimes they were tamed by muted tones and meditative desires for a warm simplicity sought in quiet corners...and they enveloped me like the very blanket I was swaddled beneath, cozily ensconced in the living room while watching these shows with my sister and brothers."

Filled with major sevenths and the sound of the ocean, Eastern/Central & Mountain/Pacific not only takes the listener coast-to-coast, from eastern shores, to the 49-Mile Drive of S.F., down through The Sandpiper territory of Big Sur and toward Malibu via Laurel Canyon, but also into the 1960s- and '70s TV and movie theme world, albeit with an introspective subtlety. It evokes Ennio Morricone conducting the wordless vocals of Edda Dell'Orso for an Italian sleeper. It rouses the spirit of West Coast Jazz as interpreted by Michel Legrand. It brings to mind lost adverts of The Ron Hicklin Singers and the gentle, miniature symphonies of Joe Raposo. "My music is mostly about longing for something that is no longer there and only exists in memory." Mary continues, "It is also about contemplating that exquisite state of 'in- between' before breaking boldly into the present tense. Much like the romantic protagonist of a movie, it's engaging in a radical act of letting go of the past while simultaneously exploring along the way. The question of what is missing from an idealized past gradually fades to the conclusion of basking in the light of the moment."

Feel the glow...


---

REVIEW
Mary Edwards' "Eastern/Central & Mountain/Pacific," a Timeless Release

Mary Edwards' smoky honey bourbon vocals all at once evoke the early output of Burt Bacharach and Fifth Dimension and Dionne Warwick and ice cream castles in the air. With her latest release "Eastern/Central & Mountain Pacific," the singer successfully channels the muse of '70s television themes in an oddly satisfying, coherently tight 30-minute set.

Deftly alternating between original instrumental and vocal tracks in much the same style Nancy Wilson and Cannonball Adderley championed 60 years ago, the album kicks off with the bossa nova lilt of "Time and I." From the opening strains of a choir that sounds fresh off a Ray Conniff session, Edward's voice coats the proceedings with a mellifluous alto that grounds the swirling chorus and keeps the sweetness from turning into treacle.

Each successive song follows this theme of living stereo soundtrack, be it music to shop to, music to drive by, or music to announce your favorite weekly show. The sophisticated instrumentals closely echo a Bruton Music catalog aesthetic that resides somewhere in the land between elevator and dinner party, while the lyrics hint at a world inside the "Daydream Window" just beyond the remote control. In this universe "...you can be a star watching all the people passing by," even after the season ends.

In a direct nod to Jimmy Webb, "Low Soft Shoulder" eases into the mix with a sound so comparable to "Wichita Lineman," you fully expect Glen Campbell to make a guest appearance.

Clocking in at a sleek half hour running time, Edwards' "Eastern/Central" doesn't have much in the way of filler. In fact, much like a favorite television show, the album ends just when you feel like it should be getting started. Then again, isn't that the nature of leaving the viewer---in this case, listener---always wanting more?

If broadcast television is an electronic camp fire, Mary Edwards is the voice that keeps the torch lit.

–Brian Carr

---
REVIEW
The Spinning Special: Mary Edwards, Eastern/Central & Mountain/Pacific
To understand the title of this review and to enter into the spirit of the occasion, one needs to watch this first; it's mandatory.
Such is the momentous arrival of Mary Edwards's new album Eastern/Central & Mountain/Pacific! Her album title harkens back to a time during the 1970s when television networks would announce the scheduled show times applying to those specific time zones; the casual spectator was always given a dual sense of sweeping national geography and a sense of union, that we were all bound together by what was coming across the channel.

Mary Edwards's music has always been about such unity; each album that she delivers is a warm, welcoming party with Mary as the Hostess with the Mostest (not in a vulgar sense). For the uninitiated, Mary Edwards is the complete musical package: singer/songwriter with a voice that sounds like she's the lovechild of Dionne Warwick. She has the musical ear and God-given talent that should've had her working shoulder-to-shoulder with the giants at the Brill Building. Soul, jazz, soft pop is all melded together into something that is uniquely her smooth, distinct concoction.

With Eastern/Central & Mountain/Pacific, we are invited to a Special.

The opening track "Time and I" tumbles out with lush cascades of harmonious voices and good vibes aplenty. It's instant nostalgia – a happiness that feels so right, it can bring tears to the listener's eyes. Adding to the cinematic/after-school-special blend are four instrumentals, which lend to the rich flavor of this venture. "The Girl Who Knew Tomorrow" has Bacharach-like horns that shoot to the sky like so many colorful balloons; "Eventual World" has a blend of melancholy and jauntiness with its flute; and the jovial ghost of Joe Raposo snaps his fingers on the sidelines in this little heaven that Mary Edwards has magically created. If I'm taken with the idea of four instrumentals on a nine-track album, it's because of the sheer boldness and ingenuity on Mary's part.

The album closes with "Something in the Sunshine" which is an upbeat, salutary finish. Listen to how Mary holds the notes, how she purposefully accents one word over another, and how she eases back to let the vibes playfully sprinkle their magic on the proceedings.

2012 is not yet over, but already Eastern/Central & Mountain/Pacific has earned a spot in everyone's Top Ten list.

—John Lane, Popshifter


---
REVIEW
Eastern/Central & Mountain/Pacific
I really haven't had the chance to do much blogging lately, but when my talented friend Mary Edwards sent me the link to her new album, Eastern/Central & Mountain/Pacific, I knew I just had to tell the world about it. This musical trip through time sounds and feel like it was made just for me - and I know some (if not all) of my readers will feel the same way. Let's take a look at it song by song.

The opening track, "Time and I" just sweeps you away to a luscious stoned soul picnic where echoes of The Fifth Dimension and Swing Out Sister drown out all the noise of the surrounding madworld and set the tone for the rest of the addictive playlist.

"The Girl Who KnewTomorrow" is the theme from that lost Susan Dey ABC Movie of the Week she did after The Partridge Family, but before L.A. Law. You know the one where she's a college student with ESP who falls for a married professor played by Ted Bessell? Set the dvr for that one.

"Bouleversant" invokes a warm spring day at an outdoor cafe, where everything should be perfect, but something is very wrong. Melancholia sets in as memories of a love lost overwhelm the mood, but not enough to spoil the day.

"Eventual World" is, of course, the theme song from Karen Valentine's Room 222 spin-off that follows Alice Johnson to San Francisco as she takes a job as an legal assistant at a Union Square-based law firm. Co-starring David Hartman, Barbara McNair and a young Robert Urich. God, I loved that show. All 13 episodes.

Neil Simon's "Daydream Window" was a TV-move that adapted his little-known play and starred Barbara Harris as a disillusioned divorcee and Jack Klugman as her TV-producer ex-husband. Turns out Jack was creating a sitcom based on their divorce, and Barbara hires lawyer Tony Roberts to stop him! Look for Robert Guillaume in a breakout performance as Roberts' best friend.

"Low Soft Shoulder" takes me away to a sultry Southern night, minus the Glen Campbell, thank you.

"Close Up" brings back visions of Burt Bacharach and Angie Dickinson sipping Martini & Rossi on the rocks. Say "yes".

And lastly, "Something in the Sunshine" is the gorgeous closing theme to the Dusty Springfield Variety Hour with this week's guests The Carpenters, Laura Nyro, Herb Alpert and Mary Edwards.

I hope these images help you feel the way I do about Mary and her beautiful music.

–Dougsplitation: A One-Way Ticket to the Depths of Pop Culture

---
REVIEW
Mary Edwards on Eastern/Central & Mountain/Pacific: The Deep Dish Interview
What was your inspiration for Eastern/Central & Mountain/Pacific?
I wanted to write an album that sounded like it might have come out of A&M studios, circa 1969-70. Perhaps the songs might evoke an ABC-TV Movie of the Week or a theme to a prime time program or special. Maybe it reminds you of something you heard in the department store while you were shopping with your mom for your back-to-school knit coordinates and your dad's permanent press shirts.
Did you always want to be a singer?
I've always imagined I'd be a composer, but never a singer. Things changed when I was forced into it by friends during high school auditions for Bye Bye Birdie. I considered falling back on architecture or bioacoustics. These days I enjoy singing - however, I'd love to hear others have at go at my lyrics. For me, nothing beats the challenge of musically interpreting a mood or triggering a memory by creating an instrumental.
If you could have anyone in the world - living or dead - be a guest at your dinner party, what three people would you invite?
I'd have an afternoon fete - beginning with outstanding canapes and cocktails - for Dame Shirley Bassey, Julia Child, Jacques Cousteau, Dr. Joyce Brothers and Mister Rogers. The conversation is guaranteed to be warm and lively.
Click here to read Doug Prinzivalli's review of Mary's album
, which I totally agree with (my favorite is his amusing description of "Eventual World" - "the theme song from Karen Valentine's Room 222 spin-off that follows Alice Johnson to San Francisco as she takes a job as a legal assistant at a Union Square-based law firm. Co-starring David Hartman, Barbara McNair and a young Robert Urich"). Also see
Black Diva History Month
...
—Marc Harshbarger
---