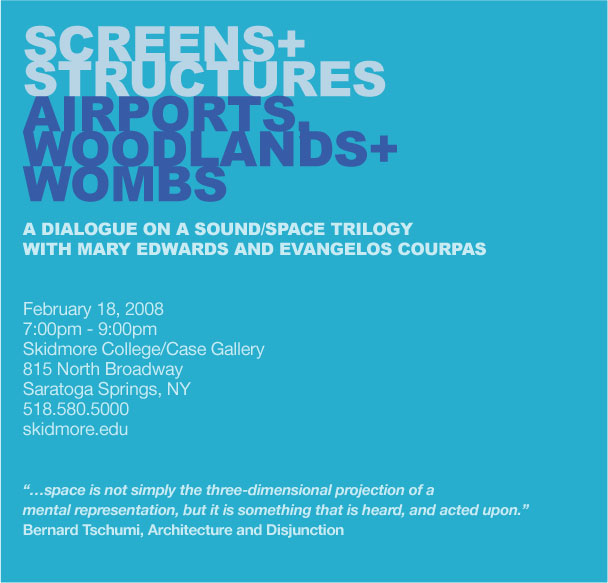 SCREENS AND STRUCTURES: AIRPORTS, WOODLANDS AND WOMBS

A dialogue and workshop on a sound and space trilogy.

February 18, 2008
Skidmore College/Case Gallery
815 North Broadway
Saratoga Springs, NY
518.580.5000
skidmore.edu

With Mary Edwards and Evangelos Corpas.

"…space is not simply the three-dimensional projection of a mental representation, but it is something that is heard, and acted upon."
Bernard Tschumi, Architecture and Disjunction

Composer Mary Edwards will discuss Everyday Until Tomorrow, a sound and space trilogy inspired by interrelated spaces––airports, woodlands, and wombs––which are, at once, perceived as both vast and intimate. Each shares the conflict of desire and uncertainty that seems to simultaneously haunt these types of spaces. Each space draws on the relationship we have with temporality, where the anticipation of travel or movement often overshadows the destination.

She will dialogue with installation artist and architect Evangelos Courpas on time-based art, site-related installation, and the socio-political investigations of space in his course Screens and Structures.

Students will work collaboratively on the "woodlands" theme by developing connective written, visual and aural content to Skidmore College's North Woods. Support materials include Gaston Bachelard's The Poetics of Space, Janet Cardiff's The Missing Voice (case study b), and Svetlana Boym's The Future of Nostalgia. The workshop culminates in a multi-channel sound/video installation at Case Gallery.

Evangelos Courpas is an installation artist and architect working with concepts of collage, memory, space, the act of building place, and in observing or remembering how spaces become place. MFA, Alfred University; BA, Oberlin College. Exhibitions at Schein-Joseph International Museum of Ceramic Art, College of Fine Arts at Shanghai University, Fosdick-Nelson Gallery, Cricket Engine Gallery. Participant in the International Summer Residency Program at the Experimental Television Center.

Mary Edwards is a composer whose projects range from recordings evocative of cinematic soundtracks to scores and sound installations both about and utilizing the properties of architecture and the natural environment that enhance spatial experience, foster deep listening, and create cinema for the ear. MFA, Goddard College, School of Visual Arts, Parsons School of Design, NurtureART Gallery, Ch'i Contemporary Fine Arts, Pratt Gallery.