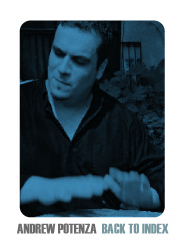 Biography


Andrew Potenza, described as, "…an incredibly sensitive drummer and percussionist, who is as aware of rhythm as he is texture…" (Review Centre), adapts his drumset and djembe playing to fit many styles.

Citing such influences as Steve Gadd, Stewart Copeland, and Evelyn Glennie (Touch the Sound), Potenza helps artists manifest the musical ideas as they relate to drums and percussion. He also contributes arrangement ideas (repeat the chorus?, more cowbell?), since drummers are very often attuned to the "structure" and balance of a song.

In 2007, Andrew Potenza performed for The NYC Fringe Festival's award-winning WILLIAMSBURG! THE MUSICAL, and contributed to the show's soundtrack scored by songwriting team Kurt Gellersted and Brooke Fox. In the past year, projects include soundtracks for both a documentary about a chimpanzee sanctuary in Uganda, and a pop song for a feature film.

He has appeared at Lincoln Center, Joe's Pub, The TriBeCa Film Festival, Bottom Line, LeBarBat, Mercury Lounge, Cutting Room, Wetlands, CBGBs, The Bitter End, and Rockwood Music Hall. Performance credits include Deni Bonet (Cyndi Lauper, R.E.M., Robyn Hitchcock), Mary Edwards (Swing Out Sister, Robb Scott, Expo Aught-Eight), Mark Rivera (Billy Joel, Ringo Starr), and Erin and Her Cello.

Andrew Potenza also serves as an Event Producer for The September Concert Foundation, an organization that brings free music to city parks, restaurants, clubs and other venues each year on September 11th. This includes the fundraiser featuring live music simultaneously on all five floors of Felissimo Design House which helped raise awareness to put on the concerts in September.

He is the author of Think Small, a forthcoming article on unplugged gigs and the nature of developing a style of playing drumset beats on the djembe.

He lives in New York City and tours internationally.