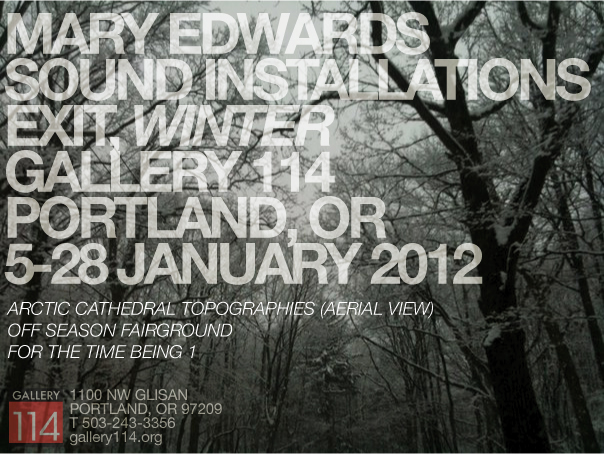 This Thursday, January 5 will be a reception for the EXIT, WINTER juried exhibition at Gallery 114 in Portland, Oregon, where Mary Edwards' sound compositions—"Arctic Cathedral Topographies (Aerial View)", "Off Season Fairground" and "For the Time Being 1"—will be installed through January 28.
Mary Edwards is a composer whose practice extends to sound as a spatial form, attempting to create architecture and cinema for the ear.

These compositions reflect the conflict of desire and uncertainty that seems to haunt intimate (if sometimes interim) spaces, each drawing on the relationship we have with temporality, where the anticipation of travel or movement often overshadows the destinantion. It exemplifies the essence and impermanence of nature and architecture, evoking both absence and presence through sound. She practices what Juhani Pallasmaa calls "Sensuous Minimalism," where a certain neutrality, restraint and silence are an inherent quality of the discipline ("The significance of architecture is not in its material form, but in its capacity to reveal deeper layers of existence").


Arctic Cathedral Topographies (Aerial View)


---

Off Season Fairground


---

For The Time Being 1
© 2011 MARY EDWARDS